DiMeo Farms ships the best Non-GMO, NATURALLY GROWN, Heirloom blueberry plants direct to home blueberry gardeners, fruit wineries, blueberry plant nurseries and pick your own blueberry farm start-ups all across America. Learn how to grow healthy blueberries with DiMeo's large $10 blueberry bushes for sale. Blueberry Picking in South Jersey at DiMeo Farms is simply the best with the best tasting blueberries plants. Fourth generation blueberry Farmer Anthony DiMeo III now continues Great-Grandpop DiMeo's 100 year-old blueberry growing legacy. CALL NOW: (609) 561-5905 get a quick mail order quote or to schedule a pick-up appointment for buying blueberry bushes at our family blueberry farm in New Jersey. Another reality TV show chose to feature DiMeo Farms and we thank TLC producers for choosing: www.DiMeoFarms.com
At around 12 years-old, Anthony DiMeo III began working on the DiMeo family blueberry farms and blueberry plants nursery in New Jersey. The valuable blueberry farm exposure and blueberry farming experience offered by his early developmental years nurtured a competency in many agricultural areas including planting blueberries, harvesting blueberries and the cultivation of New Jersey blueberries every Summer. The seasonal management of hundreds of migrant blueberry pickers employed by the DiMeo family, proved to be a formidable, yet valuable task for Anthony at such a young age. He worked closely with his father, grandfather and blueberry field crew leaders to transport the annual blueberry harvest from the blueberry fields to the blueberry packing facility. DiMeo Blueberry Farm & Blueberry Plants Nursery now has over 63,750 LIKES with happy customers on Facebook.
Both Anthony and his brothers now continue the 100 year-old blueberry farming legacy of his grandfather, Anthony DiMeo, Sr., and great-grandfather, who worked their entire lives, along with their brothers and cousins, to create and build the various DiMeo blueberry farms. ABC Travel Guides for Kids called Anthony DiMeo III "the hardest working guy in Hammonton" on it's travel guide website after they drove out to visit the DiMeo blueberry plants nursery dealer and meet with Anthony DiMeo and some of his family members. Both Anthony and his grandfather, Anthony DiMeo, Sr. were featured in the book Journey of Italians in America highlighting the DiMeo family as a successful Italian-American family. Preview the book on Amazon.com.
All types of media often interview fourth generation blueberry farmer Anthony DiMeo III to discuss the New Jersey blueberry industry such as this recent news radio interview. Producers called Anthony who was also interviewed by The Weather Channel talking about how extremely hot temperatures affected the New Jersey blueberries season. Anthony invites you (by appointment only) to drive (or fly) out to personally visit his gorgeous DiMeo Blueberry Farms & Blueberry Plants Nursery Dlr. in New Jersey, or go to www.DiMeoFarms.com and contact the family blueberry farm to buy the best large blueberry plants for sale or mature blueberry bushes on sale now at the DiMeo's retail and wholesale blueberry plants garden center. The hard-working farm family loves teaching people how to grow blueberries at home in their own backyard.  You can go blueberry picking in New Jersey at the DiMeo's U-Pick Blueberry Farms every Summer from around June 1st to August 25th.
One of Mr. DiMeo's farm properties can host you old-fashioned outdoor rustic farm weddings at our picturesque farm wedding venue location in New Jersey, right in the heart of the Pinelands forest region. Couples love country farm weddings and getting married at DiMeo's New Jersey blueberry farm.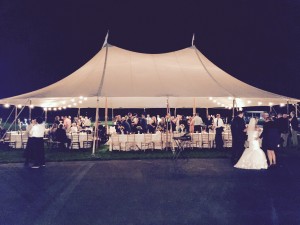 Buy Hammonton New Jersey blueberries direct from the DiMeo's or BIG bearing-bize 3 year-old, $10 blueberry plants for sale, go blueberry picking on the DiMeo's u pick blueberry farm or book a rustic farm wedding in New Jersey at his gorgeous outdoor farm wedding location in the heart of blueberry fields, surrounded by the beautiful Wharton State Forest region. All visits, including to buy blueberry plants at our blueberry farm or blueberry bushes nursery dlr., and all farm wedding self walk-through tours at DiMeo Farms are by appointment only. Call: (609) 561-5905 to get details and schedule first.
Visit our official website: www.DiMeoFarms.com